It's not easy keep­ing up with Gor­don. He's all over town!
Knock­ing on doors, town meet­ings, and now, radio shows, he is on the move. His signs are show­ing up all over the precinct as he reach­es out to vot­ers across Barn­sta­ble Vil­lage, Hyan­nis, and Centerville.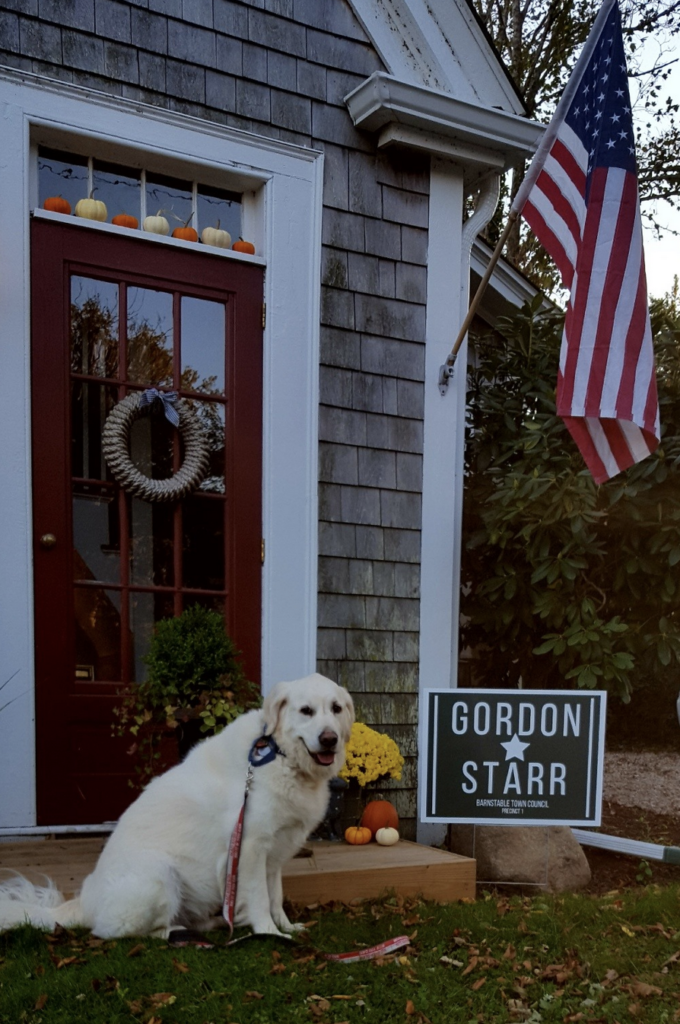 As busy as Gor­don is, so are his sup­port­ers. Click the links below to read Let­ters to the Edi­tor sup­port­ing his can­di­da­cy and pub­lished by the Cape Cod Times this past week.
Asso­ci­a­tion to Pre­serve Cape Cod's Exec­u­tive Direc­tor Andrew Got­tlieb had this to say in his "What I'm think­ing" newsletter…
If you start at the local lev­el, and let's face it that most of the action on mit­i­ga­tion and adap­ta­tion are going to hap­pen as local gov­ern­ment projects, your vote real­ly counts. I was elect­ed a select­man by 6 votes. In local scale elec­tions, sin­gle votes mat­ter and can­di­dates know it. So, don't waste your pow­er. Put peo­ple in office at the local lev­el who take the sci­ence seri­ous­ly and under­stand the urgency.

… Don't think for a minute that who you elect local­ly doesn't mat­ter. Even if your local select per­son doesn't move up the polit­i­cal food chain, they will be decid­ing what your town does or doesn't accom­plish on cli­mate and water qual­i­ty. Barn­sta­ble vot­ers, you have an elec­tion soon, so it is not too late to flex your envi­ron­men­tal mus­cles.
Gor­don cares about Barn­sta­ble Vil­lage. He is look­ing for­ward on all issues impact­ing our vil­lage and our town. Vis­it About Gor­don and learn why he should be our next Precinct 1 town councilor.